The current state of the epidemic
The past thirty years has witnessed significant progress in the struggle against the spectre of HIV / AIDS. At least in rich parts of the world, what was once a death sentence is now a chronic illness. Nonetheless, the effect of AIDS remains debilitating to low and middle income countries. And as the path out of the epidemic starts to come into focus, the scope of the challenge remaining is also becoming clearer.
For every three people who start medication in low and middle income countries, five more became infected. In these countries, 6.6 million people out of 16 million who would most benefit are now receiving drugs, a 22 fold increase since 2001. However, this leaves 9 million who are still waiting. The number of deaths due to AIDS is down from its peak, 2.1 million in 2005. Still, 1.8 million people died from AIDS related causes in 2010, the latest year for which data is available. And there were 2.6 million new HIV infections worldwide in 2009.
The future challenge
Two significant challenges must still be grappled with: extending treatment to all those in need, and controlling the spread of the disease. To meet these challenges, UNAIDS and its partners have development an investment framework, focussing on cost effective use of funds, that can achieve the goal of universal access to HIV prevention, treatment, care and support by 2015. Detailed in The Lancet, 6 an annual investment of approximately US$ 22 billion would be needed by 2015, US$ 6 billion more than the US$ 16 billion currently available. However, according to the study, the extra money would be largely offset by expected savings on treatment avoided.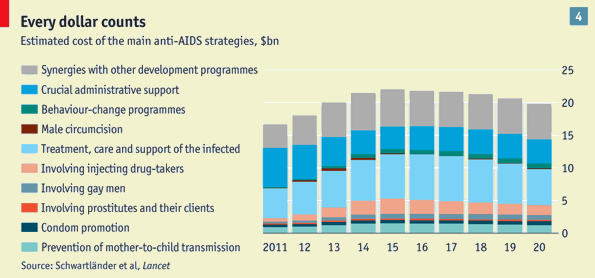 ( Graphic extracted from
The Economist
7
)
In the current environment, however, budgets are under pressure in the rich world, and austerity threatens to reduce, rather than augment, the funds available. As of this update, the Netherlands and Spain have plans to cut contributions to the Global Fund, and Italy has stopped contributing altogether 8.
But AIDS can be beaten - with enough people on drugs, not only will lives be saved directly, but the chain of transmission of HIV can be broken. With another large push right now, perhaps the world can acheive the stated UNAIDS goal of "zero new HIV infections, zero discrimination and zero AIDS-related deaths".
HIV / AIDS in sub-Saharan Africa
"East and Southern Africa remains the area most heavily affected by the HIV epidemic. Out of the total number of people living with HIV worldwide in 2009, 34% resided in 10 countries of Southern Africa.
The vast majority of people newly infected with HIV in the region are infected during unprotected heterosexual intercourse. Having unprotected sex with multiple partners remains the greatest risk factor for HIV in the region. New HIV infections among children due to mother-to-child transmission of HIV are also significant in the region." 9.
HIV / AIDS in Kenya
In Kenya, national HIV prevalence has fallen from approximately 14% in the mid-1990's, to 5% in 2006. From 2002 to 2007, AIDS death from AIDS related causes fell by 27%.
As in the rest of Africa, HIV is transmitted mostly through heterosexual sex, 40% within marriage or cohabitation. New infections linked to the sex trade amounts to 14% of the total. Amongst homosexual men, 40% are living with HIV. Injection drug use is also an important mode of transmission 10.